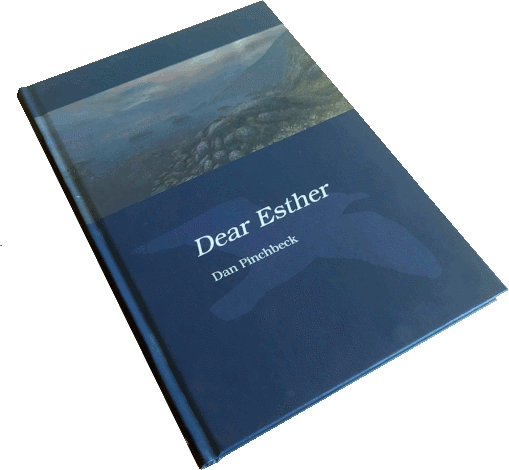 | | |
| --- | --- |
| Release date | Sep 28th, 2016 |
| Free license | No |
Dear Esther Fan Book
As a big fan of "Dear Esther," in 2016 I decided to put together a hardcover fan book to honor the game. It contains the full story as well as some supplementary material. It represents my first attempt at book layouting.
Details
I had been a fan of Dear Esther pretty much since it came out, but had always felt this little bit of frustration that unlike some of my other favorites, I had no way to physically show it on my bookshelf. (This project predates the Landmark Edition of the game.) Because I wanted to try my hand at typesetting a book anyway, I decided that this would be a fun hobby project to work on and would allow me to respectfully dedicate a little bit of my physical space to this game.
I started reading up on the typesetting of books in LaTeX and worked on my template, then added the game's narrative script. Because that turned out to be shorter than I thought it would be, I also added a variety of bonus material:
Extensive author's notes, taken from The Chinese Room's blog (which seems to have gone offline since then)
Sheet music for "I Have Begun My Ascent," which I consider the most iconic song from the game, as transcribed by Michael Hitchens (who, coincidentally and independently, has also compiled a full ebook version of Dear Esther)
Maps of the real-world Sandford Junction, based on OpenStreetMap data
A copy of a bible passage about Saint Paul referenced in the story
My own editor's notes
I commissioned some chapter artwork from my friend AwkwardBex. It turned out so great that even though this book was only planned for my private consumption from the start, I felt a tinge of guilt that the artwork would not be seen by a wider public. It has now been added to the gallery on this page and let me tell you, it is worth seeing.
After everything was complete, I went with Booksfactory for printing. I have nothing but praise for them. Even though I spent literally the minimum amount of money there that they would accept, we went through two rounds of email feedback to get my PDF file properly prepared for black and white printing.
The combined factors of their price per copy being extremely cheap, and also having a 50€ minimum order amount, meant that I ended up with 12 print copies of the book in total. I gifted some to family and close friends, but I currently still have four or five extra copies remaining. It was a fun project that definitely increased my confidence in my typesetting skills and I hope I'll get a chance to do something like it again at some point.